Hunting Creek Miniature Jersey Cows ~ Hamptonville, NC ~ Adam C. Pardue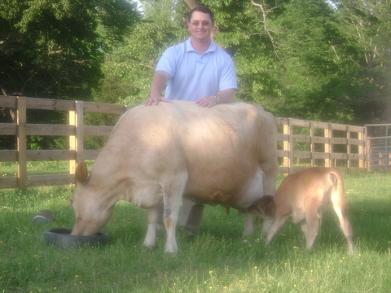 Hunting Creek Miniature Jersey Cows
Hello and thanks for visiting. My name is Adam Pardue. I live in Northwest North Carolina, in the foothills of the Blue Ridge Mountains. I started raising Miniature Jersey Cows in 2007. That's when I purchased PETALS and her three month old heifer that I named BUTTERCUP. Those two girls became the foundation of my breeding program.
About Miniature Jersey Cows
Miniature Jersey Cows (also known as Old World, Lessor, Guinea, and Barnyard Jerseys) are wonderful little cows that are ideal for a small family farm. They make excellent family milk cows and nurse cows to other calves They are generally very docile and are easy keepers on the farm!
Currently I don't have any cows for sale. I am expecting several calves over the next few weeks so I should have some available by late Spring / Early Summer 2015..
3824 Hunting Creek Church Rd, Hamptonville, NC | 336-414-3274